Overview
We have offered slate roof consulting services nationwide since 1998. Our services are provided by Joseph C. Jenkins (left), President of Joseph Jenkins, Inc., author of the Slate Roof Bible, publisher of the Traditional Roofing Magazine and Executive Director of the Slate Roofing Contractors Association of North America. Jenkins has personally worked on over 1,000 slate roofs since his early years as a roofer's helper in 1968. He has been on hundreds more as a consultant. Mr. Jenkins conducts site visits to survey and evaluate slate roofs and he provides expert witness services and trial testimony in both the United States and Canada. We do roof surveys and conditions reports, assessments, evaluations, restoration recommendations and installation specifications for hospitals, banks, institutions, historic structures, churches, private residences and any building with a slate roof, new or old.
Services Provided
We provide consulting services by Email, Mail, Remote Technical Support, Site Visit, and Expert Witness Service.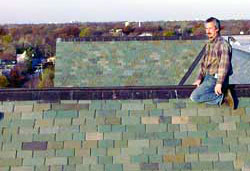 A Sampling of Clients
Our clients have included the U.S. Government, Smithsonian Institution Building and Ford's Theater, Washington DC; Pennsylvania Dept. of Natural Resources; the Cathedral of St. Andrew, AR; Castle Park, MO; the Gibraltar Estate, DE; Glenridge Hall, GA; the Zimmerman Estate, Delaware Water Gap National Park; Grove City College, PA; Indiana University of Pennsylvania; Grand Hall, Pittsburgh, PA; the Museum of the City of New York; Yale University; City of Willits, CA; Wesleyan University; City of Oberlin, OH; County of Venango, PA; Carbon County, PA, and many more.
See photos. Email us for a copy of Joe's CV, or call 814-786-9085.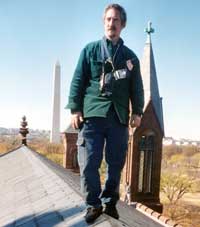 Estimated Standard Consulting Fees: The current rate for expert witness testimony, depositions, or any consulting work outside northwestern Pennsylvania, by Joseph Jenkins is $275.00/hr plus expenses. Office consulting rates (rendered from our office in western Pennsylvania) are $135.00/hr plus expenses. "Lost time" rates (e.g. travel time, etc.,) are $65.00/hr from 8 am to 5 pm on work days while traveling, waiting for meetings, or otherwise losing work time on behalf of the client.

Site Visit with Conditions Report: base rate estimated at $4,500.00, plus expenses for residential or small institutional projects. Prices vary from there according to size of project and other factors.

Remote Technical Support (no site visit or conditions report) is estimated at $1,000.00 for residential or small institutional projects. Prices vary from there according to size of project and other factors.

Email consultations are $300.00 (purchase online)

Mail Consultations are $400.00 - All rates are subject to change.
Site visits, remote technical support and forensic services require a written contract.